Get Instant Rs 10 Free Recharge By sending SMS (Brahmotsavam Gift)
Hello Guys another Cool Recharge offer is here Now get Rs 10 Free recharge in all networks all over India Free.This exclusive offer is Given By popular Wallet service Oxigen.
Before going ahead let me brief you about our website which is mainly based on free recharge tricks and free recharge apps. These topics have helped lot of users in saving their money on recharging mobile or doing online bill payment.
Today is Brahmotsavam Festival So Oxigen celebrates this festival by Giving Rs 10 recharge to new users who is not register on Oxigen wallet service yet.

Steps  To Get Rs.10 Free Talktime :-
1. Type GOVINDA AIRTEL and send to 9963900600
(In Place of Airtel you should mention your operator and send sms to get recharge)
2. You will get a instant Rs 10 recharge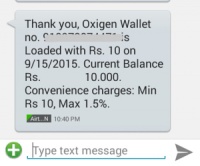 3. You also receive new login detail of Oxigen wallet.
4. Go to oxigen wallet.com & login to your account
5. Now you can use your wallet for recharge and money transfer in future.
For more offers on free recharge by doing simple tasks just like sending a SMS or giving a missed call you can visit our site Earticleblog daily.
Labels: free 10 rs recharge for airtel, send sms get free recharg trick